Feature
The BLFR Attachment is ideal for fasteners in recesses locations.
Torque adjustment is possible without removing the BLFR attachment, or removing the driver from the machine. The BLFR attachment uses threaded insert style bits which means replacement bits are less costly than long bits.

【Order guide】
1. (A) and (B) needed to be purchased separately if you have a suction-type screwdriver.
2. (A), (B) and (C) needed to be purchased separately if you want to convert your screwdriver to a suction type.
3. The suction hose is needed to be purchased separately.
(A)Mouthpieces
Screw type
Screw Nominal Diameter
Part No. (marked No.)
Pan
M2.6
-
M3.0
RF-55 (55)
Binding
M2.6
RF-55 (55)
M3.0
RF-63 (63)

Configuration of Mouthpiece/
Mouthpiece Holder ASSY
The mouthpiece can be easily mounted to the holder by screwing in.
・Optional Mouthpiece with spring  
Ideal for fasteners located in deep recesses since the mouthpiece diameter can be smaller than the head diameter of the fastener.
Structure of suction parts
DC Type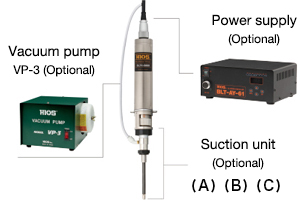 Appearance of the suction unit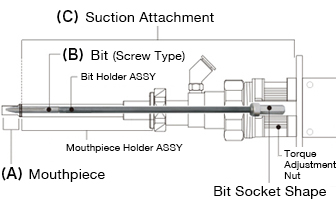 | Output Torque Range | Torque Switching | Unloaded Rotation Speed(r.p.m) | Screw Size(mm) | Bit (selectable)※ | Power Supply | External Dimensions(mm) | Weight(g) | Accessories | Torpue Range Table |
| --- | --- | --- | --- | --- | --- | --- | --- | --- | --- |
| | | | | | | | | | |
Series Comparison
Model

Output Torque Range

Unloaded Rotation Speed(r.p.m)

Screw Size(mm)

Bit Drive

Output Torque Range

BLF-2000

BLF-5000

H5 and 5HEX(both can be used)
−

BLF-7000

BLF-7000X

BLF-7025X