Iso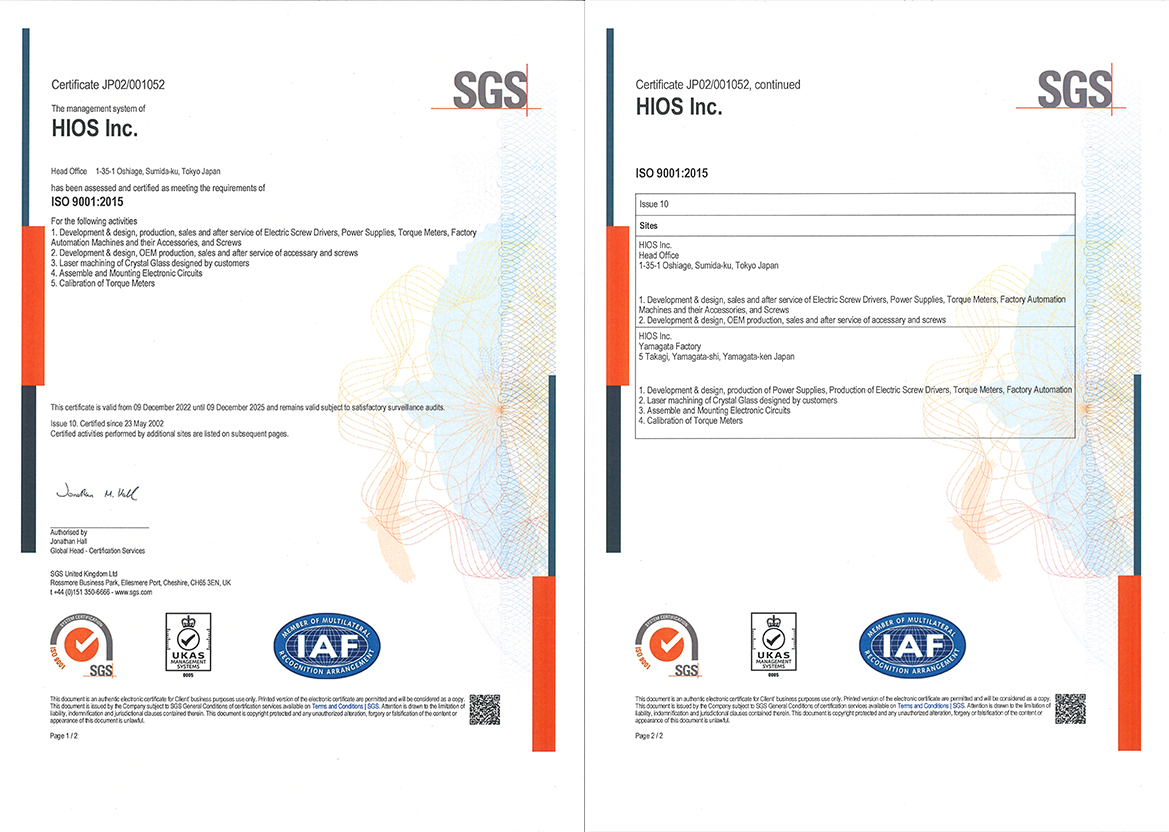 ISO9001 is a Quality Management System that assists organizations make continual improvements in determining a policy for ensuring the quality of their products and services and in meeting customer demands. This goes beyond just reviewing and standardizing our operations to extend to documenting a Company-wide quality manual and ensuring its availability at any time. This process ensures our employees' performance is monitored and subject to improvement if specific goals are not being achieved.
Our head office, Yamagata factory have all obtained certification in ISO9001.
Quality policy
We shall make it a company policy to continue making secure, safe and reliable products, achieve to supply our customers with welcome and more attractive products and services and continually improve effectivity of quality management system.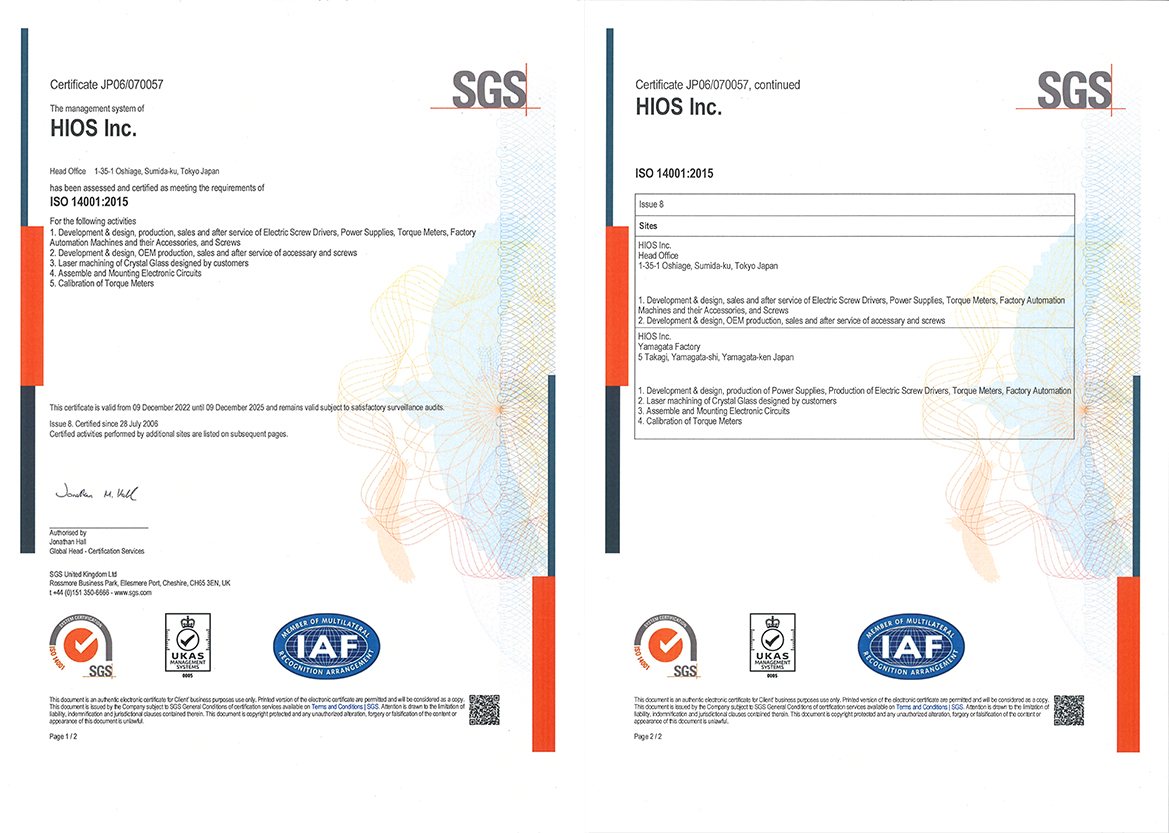 ISO 14001 is an Environmental Management System for use by organizations in providing a framework for control in continual reduction and prevention of environmental load caused by the organization's products and services.
Our Environmental Vision
●

We place the highest priority here at HIOS on environmental efforts and continue to promote business activities that are environmentally friendly.

●

We comply with all applicable environmental acts and guidelines in accordance with industry and customer demands.

●

We ensure that our global manufacturing process takes account of all aspects of production, circulation, use, and disposal from the initial development and design process in looking to reduce our corporate environmental burden.
Specific Efforts
●

Creation of environmentally friendly brushless screwdrivers that prevent discharge of harmful carbon grains through use of carbon brushless motors.

●

Our carbon brushless motor prevents discharge of carbon grains, providing a clean working environment.

●

Our carbon brushless motor reduces increases in internal screwdriver temperatures by 50% compared to carbon brush motors – contributing to energy savings and preventing global warming.

●

Our carbon brushless motor enhances screwdriver durability and reduces their environmental burden.

●

Our carbon brushless motor reduces use of consumable parts and promotes the effective use of limited natural resources.
Environmental Policy
We shall make it a company policy to continue making secure, safe and reliable products, regrad environmental concerns as major issues for everyone around the world and operate for harmony with the environment, preservation of the environment and contribution to the society.
1

We shall make every effort to identify the effects electric screwdrivers - our core product - and derivative products have on the environment.
At the same time, we shall seek to clarify all applicable laws, regulations, agreements, and requirements of each field on the environment , and each department shall establish an environmental objective, targets, and implementation plan and strive to continually conduct and improve environmental conservation activities.

2

We shall conduct environmental conservation activities that go beyond simple compliance with all applicable environmental laws, regulations, agreements, and industry and customer requirements, to establish our own voluntary standards as technical and finance limitations allow.

3

In terms of the effects our business activities have on the environment, we shall prioritize the following items in addition to performing environmental conservation and contamination prevention activities.

① Create environmentally-friendly products
② Energy use that takes account of global warming
③ Promote recycling activities by separating waste
④ Reduce harmful materials
⑤ Implement green procurement

4

We will provide all HIOS employees with environmental training, including our partners listed on our website, as part of efforts to develop a company rooted in global environment conservation

5

We shall publically announce this environment policy
About ISO
ISO (International Organization for Standardization) is the world's largest developer and publisher of International Standards.
ISO is a network of the national standards institutes of 157 countries, one member per country, with a Central Secretariat in Geneva, Switzerland, that coordinates the system.
ISO is a non-governmental organization that forms a bridge between the public and private sectors. On the one hand, many of its member institutes are part of the governmental structure of their countries, or are mandated by their government.
On the other hand, other members have their roots uniquely in the private sector, having been set up by national partnerships of industry associations.
Therefore, ISO enables a consensus to be reached on solutions that meet both the requirements of business and the broader needs of society.
View the ISO website
www.iso.org/iso/home.htm